Product Description
***IMPORTANT!! IF YOU HAVE 6-PISTON BRAKE CALIPERS FOUND ON THE 18-19 STi YOU WILL
NEED TO CALL IN FOR A CUSTOM QUOTE.  THIS PRODUCT WILL NOT FIT YOUR VEHICLE***
***DO NOT PURCHASE UNLESS YOU PLAN ON BRINGING YOUR CAR TO BRENTUNING'S SHOP IN
MASSACHUSETTS***
***PLEASE CONSULT BRENTUNING TO SCHEDULE YOUR INSTALL APPOINTMENT AND GET FREE
SHIPPING CODE BEFORE YOUR PURCHASE***

StopTech Brake Rotor and Pad Package For WRX/STi
StopTech, Centric's high performance and racing division, is a leading innovator of world-class brake components and systems for production-based racing cars and high performance vehicles on the street and track.
What's Included In This Package?
-StopTech Sport Slotted or "Blank" Brake Rotors for all four corners (please specify model and year in the drop down menus)
-StopTech Sport Brake Pads for all wheels
-Professional Installation at our facility in Massachusetts
-Motul RBF600 Brake fluid flush and replacement (optional in drop down menu)

StopTech Brake Rotors
StopTech® offers a number of different brake rotors for a variety of applications. Whether it's for a daily driver, a work vehicle or a race car, all StopTech® rotors provide improved cooling, manufacturer equivalent or better specifications and a number of innovative design details that result in optimal stopping power.
Performance Brake Rotor Choices
A brake rotor's primary function is to store and release thermal energy that is generated during the braking process. At first glance, two rotors from different manufacturers may appear to be identical, however, quality and performance cannot be determined by simply comparing the outside dimensions or aesthetics of the discs. Vane design, chemistry, metallurgy, casting methods and machining technique all contribute to the function of the disc once it is placed in service.
StopTech® has the engineering and R&D resources to test rotors on one of three Link brake dynamometers, on street and track vehicles, and in the laboratory. StopTech and Centric Premium brake rotors are designed, engineered, and built to offer significant braking advantages over OEM parts.
Innovation Through Superior Design
OE manufacturers recognize the need for corrosion protection, but also the need for immediate stopping performance. Many OE manufacturers have changed to brake rotors with partial coatings, especially on newer model vehicles. Dyno testing shows uncoated friction surfaces promote an immediate increase in stopping performance. GCX brake rotors, like many OE samples have overspray on the edges to ensure any unswept areas remain corrosion-free. Critical areas such as hub mounting surfaces are left uncoated, like OE.
-Class leading application coverage for import and domestic passenger vehicles and light trucks
-Superior protection from corrosion and rust even in the harshest of environments
-Restores original factory appearance and performance
-Engineered and manufactured for maximum durability and extended service life
-Elemental Protection coating on rotor vanes prevents corrosion and promotes efficient rotor cooling

StopTech Sport Rotors
StopTech® Sport Rotors are direct replacement discs for your factory brake system and stock calipers. They offer improved cooling as well as other advantages the competition doesn't offer. Slotting and/or cross-drilling helps wipe away the debris that forms between the pad and the disc, adds more bite, and can help the rear brakes to match the aesthetics of a front big brake kit. The rotor finish helps prevent glazing of the pads and improves wet and dry braking performance.
Additionally, StopTech® Sport Rotors feature a durable black e-coating on the non-swept areas of the rotor to prevent corrosion. All StopTech® Sport Rotors are also available cryogenically treated to better align the molecular structure of the disc for enhanced durability and longer life. When so treated, they are known as StopTech Cryo® rotors.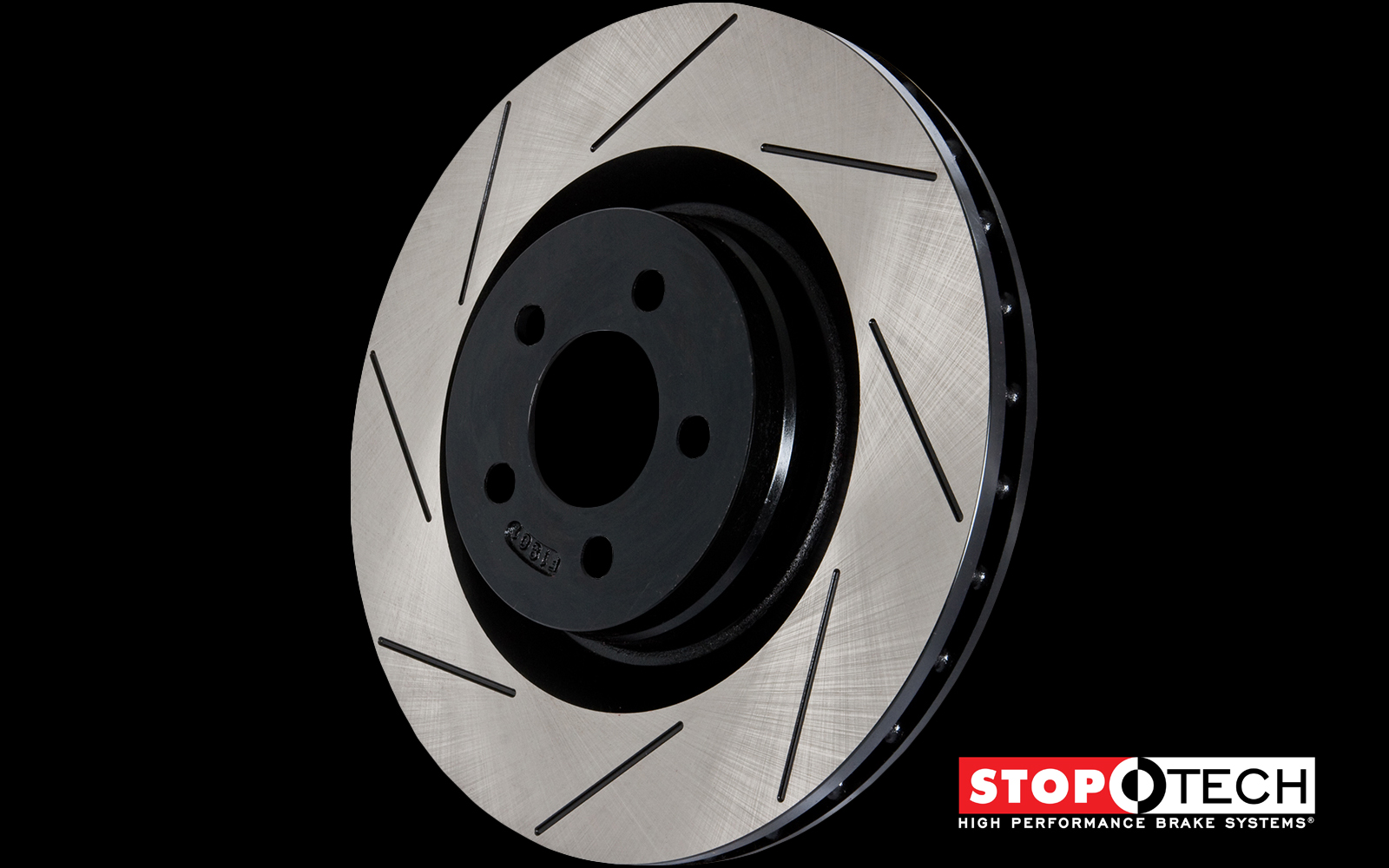 Premium Blank Rotors
Premium Rotors are blank, 1-piece, direct replacement discs for your factory brake system. They feature Original Equipment specifications and production processes. These rotors are manufactured to meet QS and ISO Quality System Standards. Like many StopTech rotors, Premium Rotors offer several key advantages over stock rotors.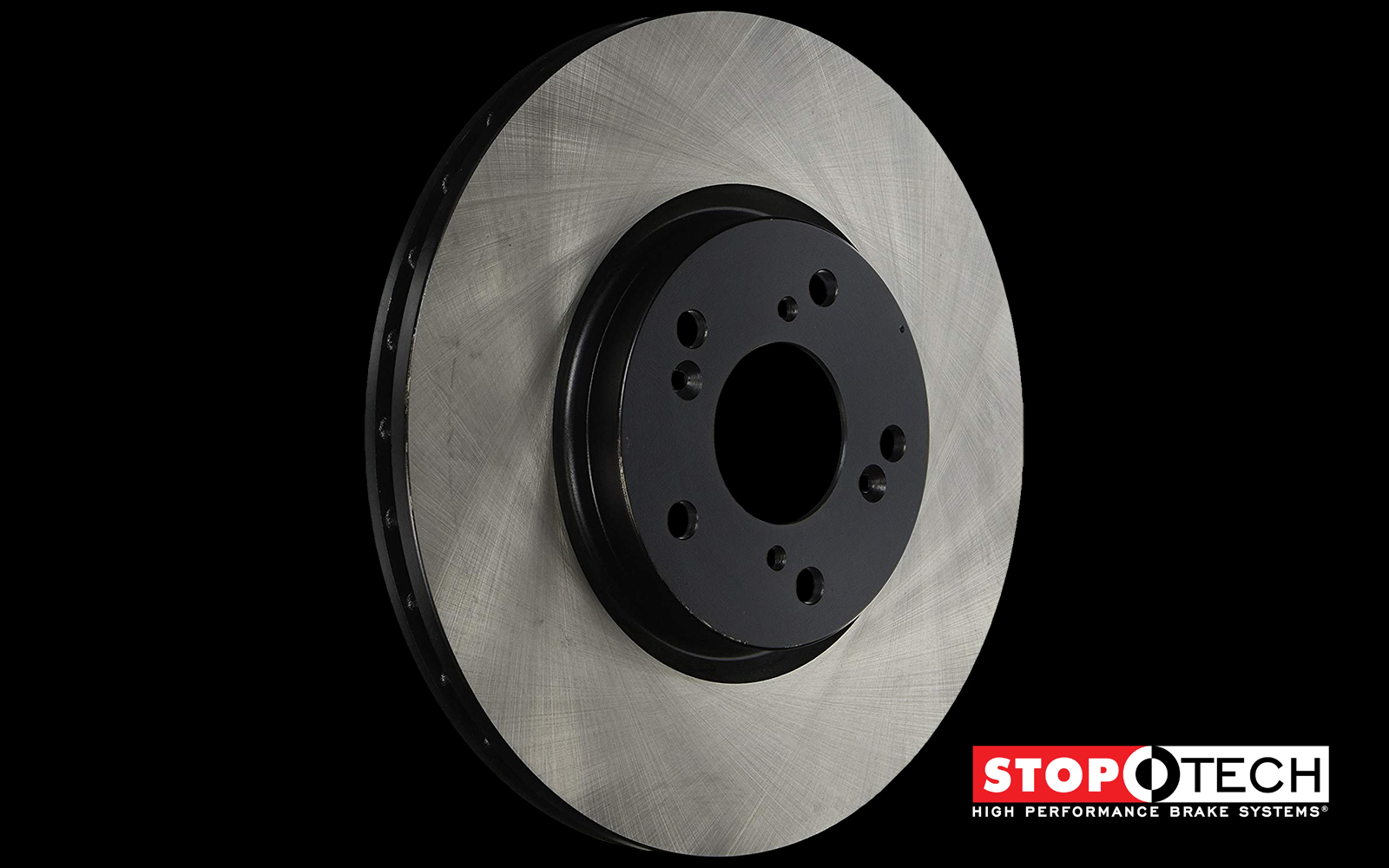 StopTech Sport Brake Pads
StopTech® introduces a new line of StopTech® Racing Friction Materials that brings the company's "Brake Late, Finish First" philosophy to a wide range of racing disciplines. The pads complement the company's wide range of high performance and replacement brake friction.
The new race-specific pads are engineered to provide optimal friction levels for shorter stops, increased control through superior pedal modulation, and fade-free performance at extreme racing temperatures. StopTech® Racing pads are designed to provide superior performance in any racing brake system and engineered to match the outstanding performance capabilities expected of all StopTech® Racing Balanced Brake Systems.
Product Details
-Formerly known as Street Performance Pads
-High MOT to Eliminate Fade
-Excellent Actuation, Modulation and Release
-Positive Molded for Uniform Friction Material
-Scorched to Raise Initial Cold Effectiveness