Product Description


PORSCHE GT3/RS/R/TOURING Handheld ECU Tuner
Using our own custom tuning tools, developed in-house, we started tuning on our own shop cars to develop what has become one of the industries top tuning suites for Porsche.  We want to add power but not sacrifice your cars reliability.  While increased power is great, we don't stop at power alone and focused on the features GT owners thought the car was lacking.  We also focused on low and mid-range gains as well as smoothness and throttle response, which will improve cornering drivability and lap times with faster exit speeds and increased torque.  At BrenTuning we pride ourselves on being perfectionists at our craft, we are constantly developing new software and trying to better what is already being praised as the best in the market. This product was 2 years in the making.
Due to the large gap in real tuning options for the Porsche GT3, we created this handheld tuning option.  As owners and enthusiasts of the GT3 we know the car is more than capable at the track or the street.  From the delivery experience at the dealership, to the first drive, to just sitting in your garage and staring at the GT3, it never disappoints… though we always thought there was more greatness hiding inside this car somewhere, and we found it.  With our large tuning knowledge and database of similar Bosch ECU structures, we found what works in other platforms and tested theories on our shop GT3, the results were great and we knew we were on to something.
More than just an online file service generic tune currently found on the market, this product is two years in the making with relentless testing and R&D with our own GT3 on the dyno, track and street.  This is what it takes to complement something that is already at the epitome of perfection.
Through our research of the GT3 ECU (electronic control unit) and the specific 3.8 or 4.0 engines, we have discovered where more power was hiding.  Many people can make HP on a dyno, the true tuning talent comes to light when you can make that power without sacrificing factory reliability while actually improving lap times.  Extensive dyno testing and datalogging, backed by oil analyses, on the street and track with various fuels and extreme climates have found quantifiable differences with our custom tuning.  With our handheld tuner, you're able to load multiple files for the track.  This is great for customers wanting to drive to the track, rather than trailer their car.  You can load a pump gas file into the car and once at the track, load a race gas file.  Then back to stock again if you so desire.  It's that easy with our plug and play tuner.
Even with the highest quality bolt-on modifications, like intake and exhaust, the car is still electronically held back due to the torque model in the GT3.  Our research found that we could optimize quite a few aspects of this vehicle.

WHERE DO WE CONCENTRATE OUR FOCUS?
– Horsepower and torque gains across entire RPM range, not just peak power
– Improved driveability and throttle response while maintaining a smooth and linear power curve
– Popular option to add "over-run burble" on stock or aftermarket exhaust
– OEM reliability you have come to expect from Porsche and BrenTuning
– Race fuel or pump gas specific track-proven and tested mapping available
– Better sound with complete exhaust valve control for a more immersive driving experience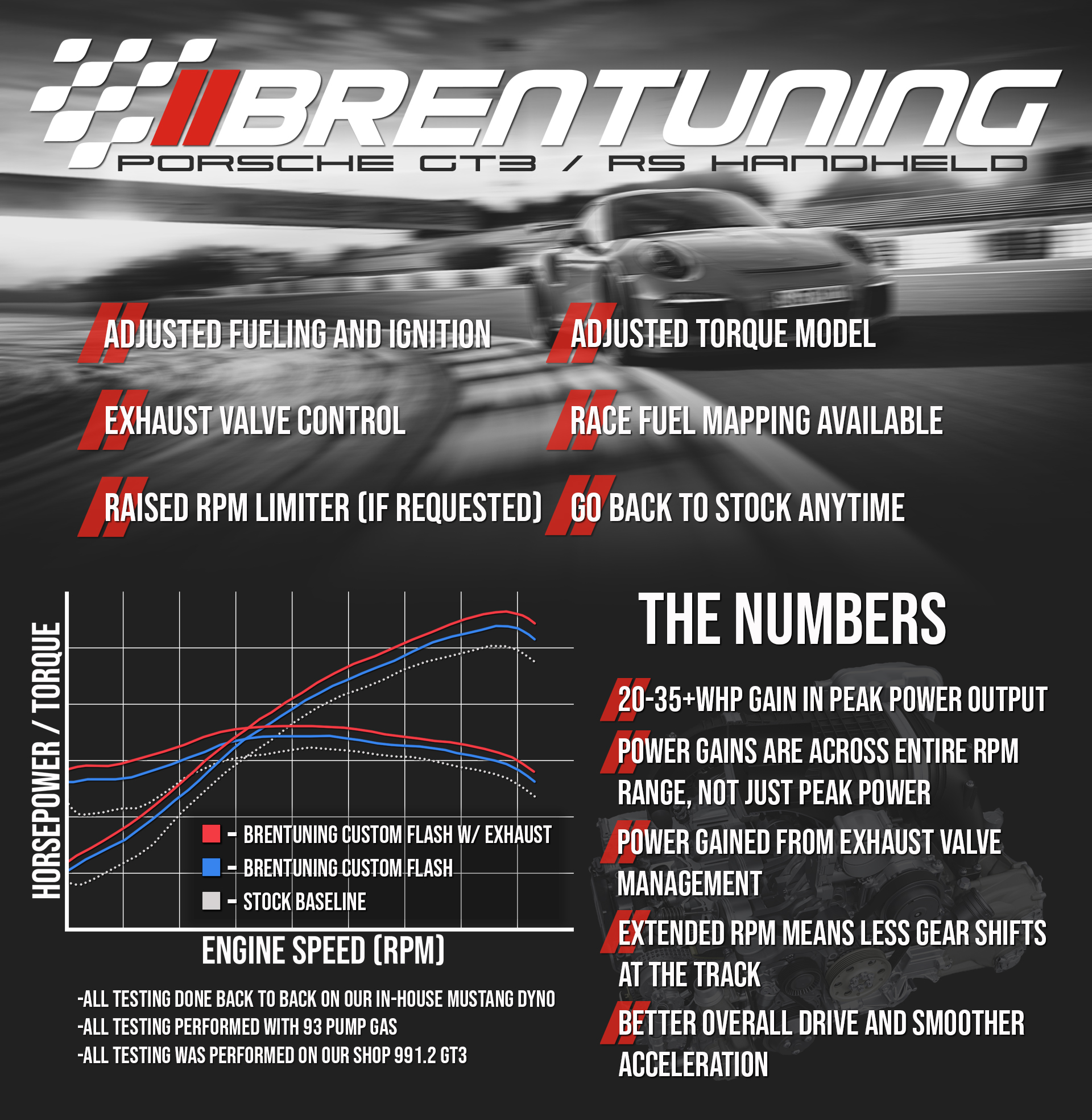 WHAT DOES OUR TUNING IMPROVE?
– AFR (AIR/FUEL RATIO) – In the stock calibration we found that the AFR was not optimal and could be improved upon to maximize track performance and daily driving. The factory had to severely retard ignition to run this lean ratio and have it trackable, with multiple EGT (exhaust gas temperature) specific programs to limit power when the vehicle gets hot.
– TORQUE MODEL – Torque targets held the GT3 back from making any additional power, even with modifications.  When the driver requests 100% power (full throttle), the stock calibration seeks only the maximum amount of power available by a stock engine.  With aftermarket bolt-on parts the engine is able to make more but the ECU's torque model will only allow for maximum stock torque.  If the car starts to overshoot this target, the ECU will electronically hold back the engine from making additional power and not take full optimization of the new parts.  We correct the torque model to allow maximum power for aftermarket modifications and stock car applications.
– IGNITION TABLES – Once the AFR was corrected to a level the vehicle was happy and exhaust gas temperatures were lowered as a result – we found the ignition tables could also be optimized for better performance without sacrificing reliability on hot track days for additional power.
– TOP SPEED LIMITER – A lot of people aren't aware the GT3 is electronically limited to 185mph (US models).  We remove this limiter and have GPS verified our own GT3 up to 200mph with our flash.
– EGT (EXHAUST GAS TEMPERATURE) – These maps typically limit performance but with our testing we are able to gain more power while keeping factory reliability with more consistency during racing scenarios due to targeting better air fuel ratios for racing use.
– CAM ANGLE – Cam timing is adjusted (model year dependent) to maximize performance and complement the other tuning features for linear and smooth power. Certain Euro4/6 models have this severally detuned for street use.
– RPM LIMITER –  A higher RPM limiter means less shifts at the track.  The motor has historically been able to receive small adjustments here.  This feature is not standard due to some customers concern about the Porsche "overrev report" but can be added upon request in race use.
– ENGINE TEMPS – Our flash has the ability to turn on the factory cooling fans earlier than stock resulting in cooler overall engine temperatures.
– ENGINE FAULTS – No ECU errors with factory manifold changes and no spacers required with our flash.
– FUELS – Our flash can support multiple fuels, along with pump gas tuning.  We currently have files developed and optimized for use with 91 or 93 pump gas, VP100 and MS109.
– OVERRUN "BURBLE" – On deceleration our flash can make the exhaust crackle.  This is much like the factory GT2 "burble",  This isn't obnoxious but gives the GT3 more of a race car feel.
– EXHAUST VALVE CONTROL – Complete control of the exhaust valve means better sound and more power. No longer are you restricted to pulling the vacuum line to have the exhaust open all the time and drowning in sound with the factory side mufflers or valved deletes.  You are not restricted via rpm and throttle response either.  The exhaust button now functions as it should, it's on or off.  If you feel in the mood for loud you can open it up, or if you want to speed in silence you can shut the valves at higher speeds than the factory did not allow you to do. We do not recommend permanent closed use for high rpm use as the car will use a restricted torque model when shut (71% of the available power) due to back-pressure.
– RESULTS – Depending on model we have made power gains of 25-35+whp with our flash alone.  Power is gained across the entire RPM range, not just peak power.

ANNOYANCES PEOPLE ASKED US TO ADDRESS
– DUAL CLUTCH SLIP AT LOW THROTTLE – Engine torque model electronically changed to make clutch engagement more smooth and reduce slipping.
– EXHAUST VALVE – We can leave the valves completely open so there's no variance in sound.  Exhaust valves can be turned on and off via the "exhaust" button.
– OVERRUN BURBLE – The deceleration exhaust crackle that comes standard on turbo models can now be added to the GT3.
– NEUTRAL REVVING – While we don't change the RPM limiters on the standard flash unless noted, we can also offer more RPM in neutral for those who like to free rev over a very stubby rpm in park or neutral.

WHAT SEPARATES US FROM THE COMPETITION
– 991.2 REMOTE TUNING – Real Bosch reverse engineering and custom features. Custom tuning ability and full control over the ECU. We created a database of unique files so you can use our handheld tuner and map anywhere in the world or bring in for in person calibration. It is fully removable at any time.
– OVERRUN BURBLE – Fun factor.
– EXHAUST VALVE CONTROL – Completely open or closed valves at all times.
– POWER – Typical GT3 tuning nets minimal horsepower and torque gains, therefore it hasn't been a good modification in the past. The reality is when done correctly it's a very worthwhile mod. Compared to the other N/A price modifications you can do to this motor the $/per hp ratio is desirable without increased noise.
– RACING HEADER SOLUTION – No spacers needed and no engine errors present after install and startup.
– RACE FUEL TUNING – Optimized for use with 91 or 93 pump gas, VP100 and MS109.
– WORKS WITH ALL FACTORY FAIL SAFE PROTOCOLS – Some tuners will turn off the EGT and knock control to yield better numbers on the dyno.  Unfortunately this sacrifices some very important factory fail safe measures at the track.  We ensure these protocols stay functioning and active to protect your GT3 while driving or racing.
– WE HAVE COMPLETE CONTROL – Most tuners are  "nudging" air/fuel ratios and adding blanket timing while turning off knock control.  This is dangerous and can lead to serious issues in the future.  Over two years we have broken the ECU coding down to the foundation and discovered how every parameter of this ECU works.  We offer a complete tuning solution, not just a couple changes.
Below is just a small representation of the MANY tables we have access to on the GT3.  Each table can be adjusted independently and each change can effect how other tables behave.  This is why years of hard work went into our R&D.

"BURBLE" AND FREE REVVING
Below you'll see how our tuning effects the exhaust note and adds "burble".  The burble is the crackle you hear when lifting off the throttle or decelerating.  This is something you can clearly hear on the Turbo models but not something you can hear on the GT3.  This is something that gives the car a race inspired sound but not too obnoxious.
You can also hear we adjusted the RPM limiter for increased neutral revving or "free" revving to louder levels.  The car is no longer bound by the stock revving limiter in neutral at 3,800 RPM's. It was increased to 5,500 RPM's.

DYNO PROVEN
Let's face it, everything our tuning offers is important but when it comes to Porsche, power is one of the most important aspects.  Proven on the dyno and with two years of research, we're proud to show you what we accomplished with the GT3.
Here's a quick video showcasing a couple features found only with the BrenTuning Flasher+ and custom mapping.  You'll see that we have complete control over the exhaust valve.  This allows us to make the exhaust crackle or "burble", much like we see on the factory Porsche Turbo models.  This makes the exhaust louder and gives it a defining tone.  If you'd like to close or open the exhaust valves on the fly, you can press the "exhaust" button to switch between exhaust modes.
The handheld tuner is easy to use and extremely portable.  You can put it in the glovebox and pull it out when you're ready to swap maps.  This will usually be when at the track and switching between fuels.  You can even go back to the factory mapping if you desire.  You're able to store multiple maps.  Just plug into your vehicles diagnostic port and you're ready to tune!
Power gains are real and mapping is calibrated specifically for your vehicles modification combo.  Even stock GT3's will benefit largely from our tuning.
Below you'll see a dyno sheet with two runs for a 2018 GT3.  The less powerful run is the stock calibration with the only modifications being a Sprint Air Filter and a AWE Exhaust.  You can see our custom calibration yields quite a bit of power.  Remember, the modifications listed are on both runs and with the same fuels.  The run with our tuning just makes more power due to the adjustments we made.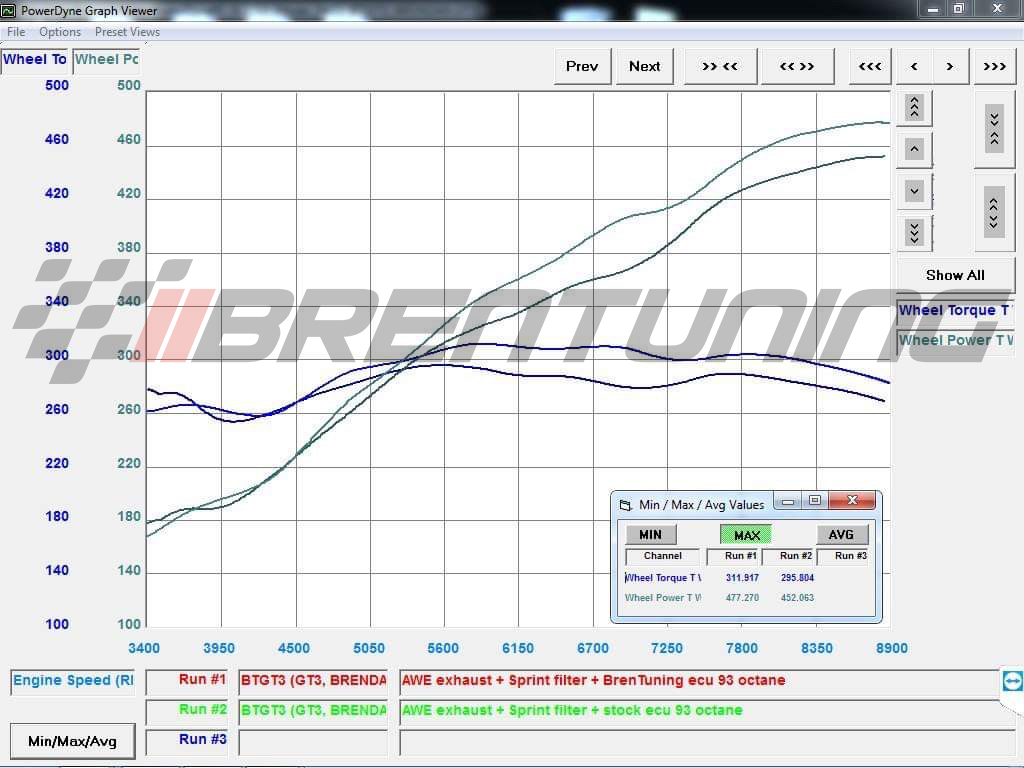 ---
Below you'll see more dyno work but this time we add a modification on the third run (highest power).  The lowest power run has the stock calibration and a Sharkwerks Bypass on a 2019 GT3RS.  The middle line is the same modifications and same fuel.  The only thing we added was our custom calibration on that same 93 octane.  The third run is with an off-road racing header.  These gains are huge when optimized by our custom tuning.  This particular car went from 453whp/325wtq to 494whp/351wtq.  Not only are these peak gains but gains across the entire RPM range.  This is important when street driving your Porsche and can really feel the mid-range gains from light to light.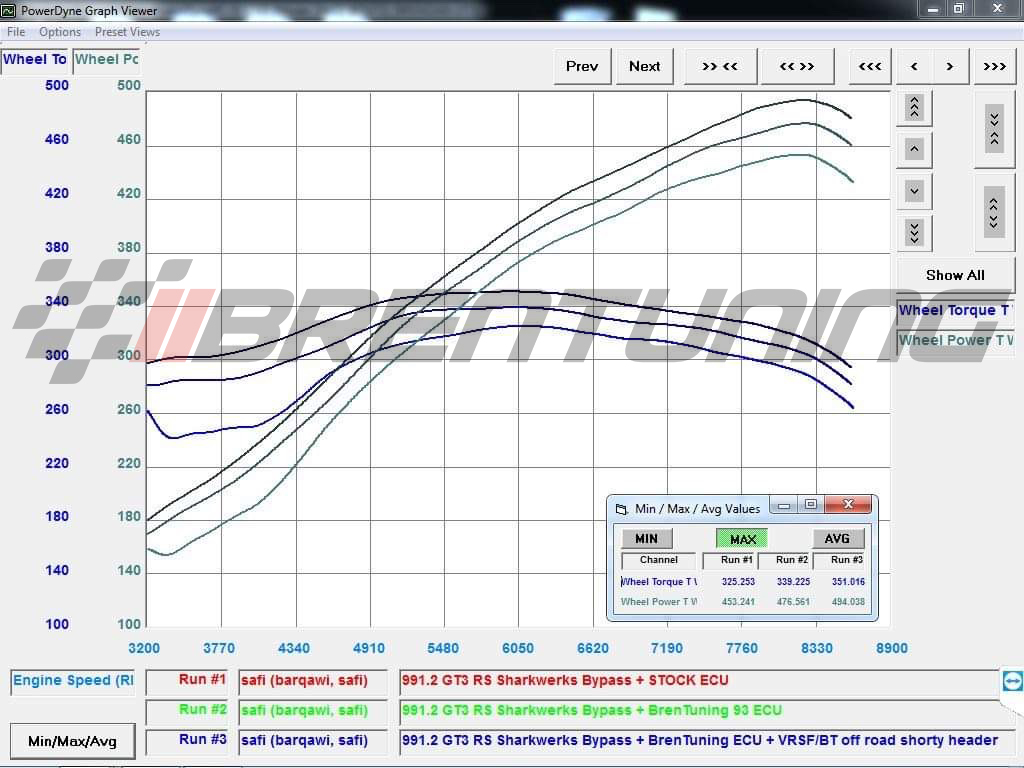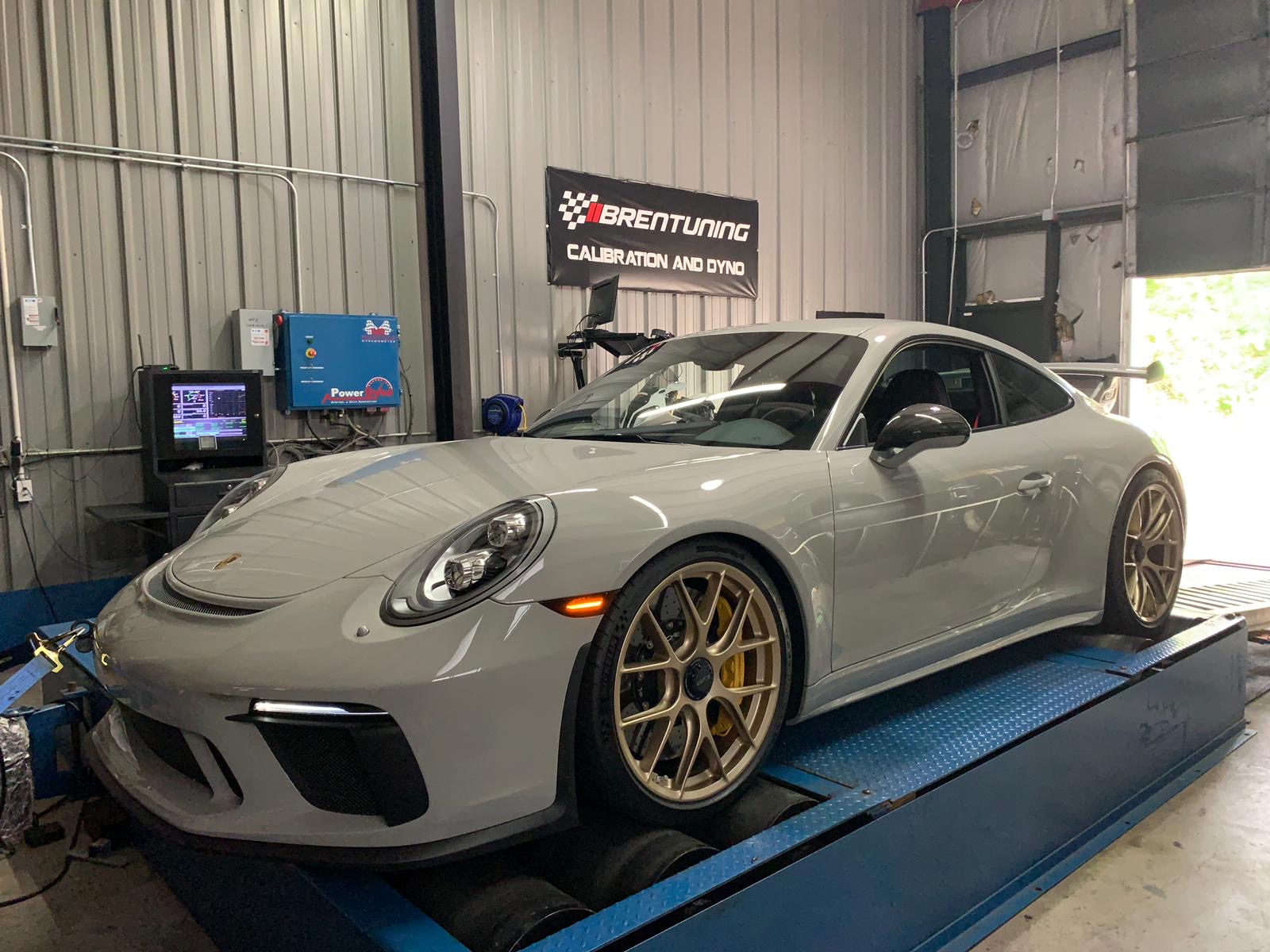 HANDHELD TUNER
WHAT IS A HANDHELD TUNER AND WHAT ARE THE BENEFITS OF HAVING ONE?
We start with our popular OBDII Flasher+ and fully customize it.  Thoroughly tested by our own engineers, not just for its function but also durability.  We purposefully dropped this thing about 100 times just to make sure if you accidentally dropped it, it would still be a usable device.
So why buy it when you can just send in your ECU for flashing and spend less? Let's see the breakdown.

NO DOWNTIME
No need to send in your ECU or remove it from your vehicle at all.  You order the handheld, it get's delivered to you, you flash your GT3.  You never miss a day of driving and no effort removing the ECU.
STORE MULTIPLE MAPS
When you send in your ECU, you only get one map.  You might be thinking, "why would I need more than one map?".  Storing multiple maps means you're able to flash for different fuels.  If you're a serious track competitor, we can work with you to get you different mapping for different tracks.  If, for example, you add headers to your stock GT3, we can email you a file that takes the new exhaust into account with the changes you need to optimize your vehicles new modifications.
GO BACK TO STOCK ANYTIME
Not only can you store multiple race maps, you can also flash the original  stock file back into the vehicle at any time and for any reason.
READ AND CLEAR ENGINE FAULTS
If for some reason you have an engine light, you're able to plug in our handheld tuner and read the codes from it.  Using the codes you're able to determine the issue with the bike.  Sometimes these codes make the Engine Light come on.  Even after the issue is fixed the engine light can stay on for a dealer to clear or stay on for a certain amount of key cycles.  The handheld can clear these codes.  As long as the issue is fixed, the handheld will eliminate the engine light.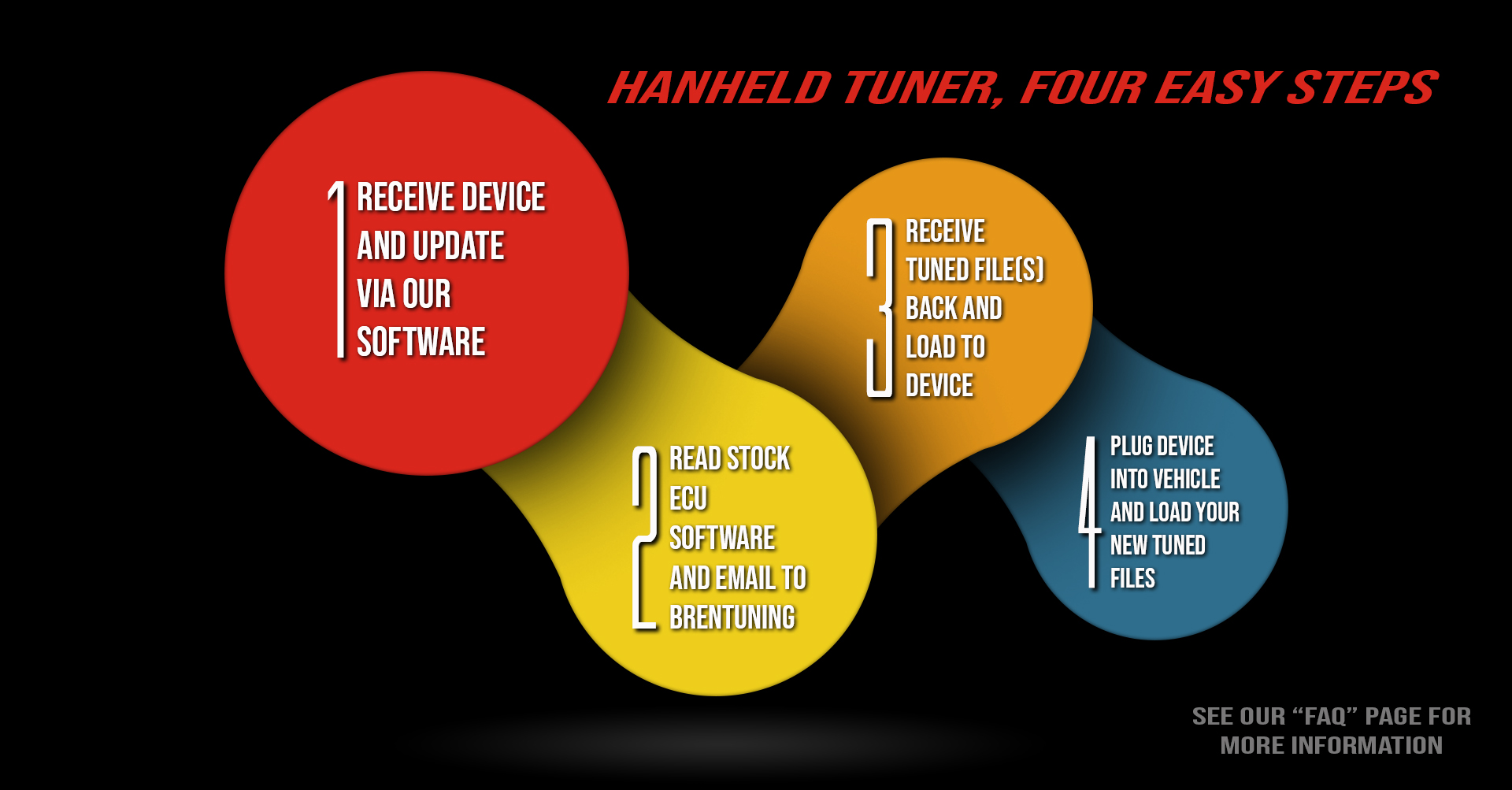 ---
**** Our handheld tuning device requires the use of a windows based computer. The handheld and the computer never need to be next to each other and the software is non-invasive. This means a desktop or work computer should be just fine. The file download for the software is around 60MB which you will have to download from the internet. If you do not have access to a windows computer, the internet or are not proficient with a computer and downloading / uploading things from the internet, please consider our mail in ECU tuning service. ****
**** Two fuel options/maps are available with your purchase, we can do a low octane and high octane option, if you have additional requests they can be included at an additional $100/per map fee, this can cover additional fuel qualities or modification sets. ****
***Dyno or advertised numbers may vary from your own results due to a multitude of variables and dyno calibration***
***CLICK HERE TO VIEW "MYGENIUS" SOFTWARE INSTRUCTIONS AND USER MANUAL***
***CLICK HERE TO VIEW OUR OWN DEVICE INSTRUCTIONS, PLEASE READ THIS BEFORE PURCHASE AND UNDERSTAND FULLY!!!***
***PLEASE NOTE: A WINDOWS BASED COMPUTER AND A VERY BASIC UNDERSTANDING OF HOW TO
USE A COMPUTER IS REQUIRED TO USE THIS PRODUCT.  PLEASE CONSULT A PROFESSIONAL IF YOU
THINK YOU MAY HAVE DIFFICULTY USING EMAIL OR DOWNLOADING/INSTALLING SOFTWARE.


DOWNLOAD AND INSTALL OUR HANDHELD SOFTWARE

FIRST TO ENSURE THERE'S NO ISSUES BEFORE
PURCHASE.***
***DISCLAIMER: FOR CLOSED COURSE COMPETITION USE ONLY.
NOT INTENDED FOR STREET USE***